All Secret Characters Unlock
The creators of Crossy Road present Shooty Skies!
Shoot, dodge, duck, goose and weave.
Take to the skies!
If you ask yourself how to unlock the Secret Characters in Shooty Skies you will find the answers here. This is the complete guide. The Shooty Skies Secret Characters are Hipster Whale, Zombunnie, Pew Pew Pew, Sparkles, Drama Llama, Morty and Zombie Kitty. Two new Shooty Skies Secret Characters were added in the Black Friday Update: Monster Savings and Roddy Cat. Another 4 Secret Characters were added in the Christmas Update. Two more Characters are Ya Zi and Monkey King from the Chinese New Year Update.  Another 6 hidden characters came with the Munchable Madness Update. Six more unlock-able characters were added with the  Pirates Ahoi Update in April 2016. Four more secret characters were added with the  Destination Mars Update in June 2016.
We present you the Secret Character Unlocks we already found. Feel free to discuss the other Unlocks and your experience with us to complete the guide:
#26 Hipstarrr Whale
To unlock the Pirate Hipster Whale play as Disco Beard (secret character – see below how to unlock him) and beat the Disco Beard on his pirate ship.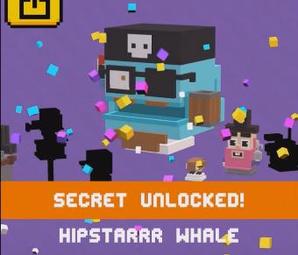 #25 Look Out Below
To unlock the new Shooty Skies hidden character Look Out Below play as LeCluck and shoot down 100 treasure chests.
#22 Discobeard
To unlock Discobeard you can use any character. Kill (or maybe it's enough to fight against) Discobeard on his pirate ship . Once the game is over the secret character Discobeard will be unlocked!